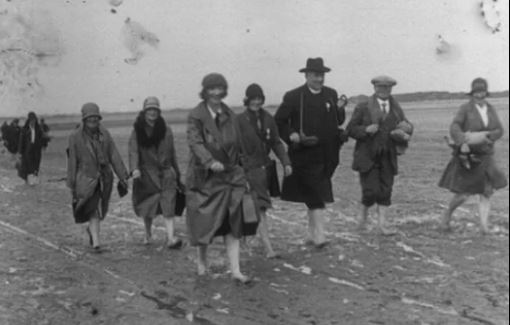 North East Film Archive Presents a Special Evening of Archive Films: 'Moving North: Coastal comes to Belford'.
Wednesday 15th November, Ferguson Hall, Nursery Lane, Belford NE70 7NW. Doors open 6.30pm for 7pm start. Tickets on the door, £4 adults/children free.
After the success of the BFI Britain on Film archive screenings in the Belford Arts Festival in the Summer, the Belford Community Group is proud to present another evening of vintage cinema on Wednesday 15th November in the Ferguson Hall entitled 'Moving North: Coastal Comes to Belford'. A special tailor made selection of archive footage which has been specially curated by the North East Film Archive, and which will be presented by their Director, Sue Howard.
With material drawn from amateur and home movie collections, cine club travelogues and regional TV productions, the North East Archive curators have been working to preserve and digitise more of our North East film heritage collections to share with audiences in a variety of screening locations, as well as creating a permanent access to their collections online.
For this special screening event, we'll be stepping back in time to the 1920s, as filmmakers capture the quiet beauty of Lindisfarne, the Holy Island, as it welcomes barefoot pilgrims to the magical, spiritual home of the Celtic saints. From boy scouts camping holidays in the 1930s, to a look at how enthusiastic home movie makers captured their 'Northumbrian Memories' on film in the 1950s, alongside films reflecting the working lives, local industries and traditions past and present, and from there we journey on into the 60s and 70s with gems from regional television collections.
And in addition to the film clips, Sue Howard will introduce a couple of famous faces experiencing the magic of our coastline, and finally, to test everyone's coastal knowledge, there may even be a few quiz questions thrown into the mix.
About The North East Film Archive
The North East Film Archive is a registered charity, with collections of some 35,000 items dating from the 1890s to present day. The films are a visually compelling record of our region's moving image heritage, the people, places, traditions, cultures, industries and landscapes captured over decades by amateurs and professional alike. Find out more at: www.northeastfilmarchive.com