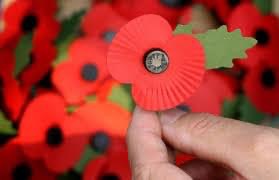 BELFORD ACT OF REMEMBRANCE – 8th NOVEMBER
We have at last received official guidance for conducting Armistice events under Covid regulations (see extract below). With a couple of minor additions the proposed original plan complies.
To ensure everyone's safety and to stay within these regulations, we ask all attending to follow these 3 simple rules:-
1.Wear a face covering throughout the entire proceedings.
2.Bring a pre-written slip with your contact details for Test and Trace and place it in the receptacle attached to the well
3.Abide by the "Rule of Six" as well as maintaining 2 metres social distancing at all times (Many people seem to underestimate the 2 metres required, the photo shows it is more than 3 paving slabs!)
WREATHS: To facilitate a well ordered and distanced laying of tributes, we would ask all groups/organisations intending to do so to advise Lt Louise Donaldson (Event Commander) asap.
Event organisers should keep numbers to a minimum. For the avoidance of doubt, the following people are legally permitted to attend events to commemorate Remembrance Sunday as participants. Attendees should observe social distancing at all times.
people attending as part of their work (such as local councillors, local faith leaders, the local MP)
people attending in a voluntary capacity on behalf of a recognised organisation
members of the armed forces
veterans of the armed forces, and/or their representatives or carers
Members of the public are legally permitted to stop and watch the event as spectators, but must observe the rule of 6 and social distancing rules. Event organisers should take reasonable steps to ensure the public attend alone, or do not mix in groups larger than 6 when in an outdoor public space (unless they are from one household/support bubble).
Test and Trace
Event organisers must take reasonable steps to record the contact details of those attending (including those present in a working capacity, and members of the public who stop to spectate).