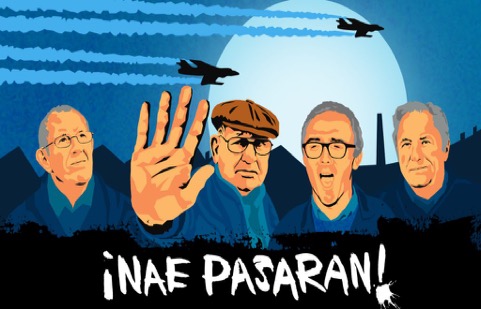 Belford Community Cinema presents:
NAE PASARAN (12A)
Heart-warming feature length documentary
at Bell View, 33 West Street, Belford NE70 7QB
Wednesday 28thAugust 2019
Doors 6.30pm/7pm start. Running time: 80 mins. £5 on the Door.
Nae Pasarantells the poignant story about the decency and moral courage of a group of Scottish Rolls-Royce workers, whose selfless actions helped the people of Chile in their time of need.
In 1974 the men downed tools, refusing to repair jet engines for the Chilean air force in protest against the bloody military coup that had toppled the democratic government of Salvador Allende, and established the fascist dictatorship of Augusto Pinochet. A quick-witted shop steward spotted that the engines were Chilean and "blacked" them, so couldn't be touched. News of the Scottish act of solidarity reached some of the jailed Chilean political prisoners letting them know that they weren't forgotten by the outside world.
Wonderfully humane documentary (The Scotsman) ****