A onetime vicar of Belford, the Rev Charles Robertson was the main instigator for the formation of the Floral and Horticultural Society. The first ever show was held in the ground of Belford Hall on 12th September 1884. The Patrons were the squire, Mr George D Atkinson- Clark of Belford Hall and Mr J.T. Leather of Middleton Hall.
Four years later the event had moved to the National School, although the gardens of the Hall were still open to ticket holders. Competitors from all of the surrounding townships were now allowed to enter. The industrial section had greatly widened its scope and now included handicraft such as quilt making, hearthrugs, knitting, sewing, bread making and handwriting section for the children. The proceedings now very much enlivened by music from the band of 3rd Battalion "The Fusiliers" who were based in Alnwick. The show continued to flourish in 1893 there were 693 exhibits.
Over the following years there have been a few setbacks- and the suspension during the years of the two World Wars- but nevertheless the "Show Must Go On"
Today, thanks t a dedicated team of helpers, and the support of competition from the village and beyond, Belford Show still flourishes. It is the longest standing event in our village.
Detail of how to enter the diffrent classes can be found on https://belfordvillageshow.com/ or forms are held in the Community Shop on the High Street.
Winners from 2018
Show Cup Winners 2018
Best in Section J Johnson – DahliasPRODUCE – Mr & Mrs J D Henderson cup T Bell
Best in Section L Gilhome
BAKING – Mrs B A Tully cup O Johnson
Jean Sanderson cup for Best in Section Flowers
Guy Comber memorial cup for Chocolate cake S Redford
HANDICRAFTS – The Hunter cup Redford
Best in Section J Hare
ART – Johnson Cup – overall winner K Tindale
Doreen Thomson Memorial Shield Best in watercolours K Tindale
Joan Hutchinson Memorial cup (Acrylics) T Binder
PHOTOGRAPHY – M I McDonald Shield A Woolley
FLOWER ARRANGING – Mrs D McDonald Salver D Hare
FLOWERS – Miss C J H Sanderson cup J Johnson
Bob Martin Memorial cup – single rose E Duncan
VEGETABLES – Dr D T McDonald Cup J Johnson
Best in Section R Dodd
FRUIT Nell Atkin Memorial Trophy (Dessert Apples) R A Reay
Single Sunflower heaviest head D Renton
Tallest Sunflower D RentonPotatoes grown in a pot (heaviest) M Ling
JUNIOR SECTION –Robson Cup age group 5-8 years Livvy Grethe
N H Hogg memorial trophy for vegetables (5-8 years) I Duncan
SENIOR SECTION Hibbs Cup – Age group 9-13 years Suzi Gilhome
N H Hogg memorial trophy for vegetables (9-13 years) Emily Duncan
President's Trophy for best exhibit in show Suzi Gilhome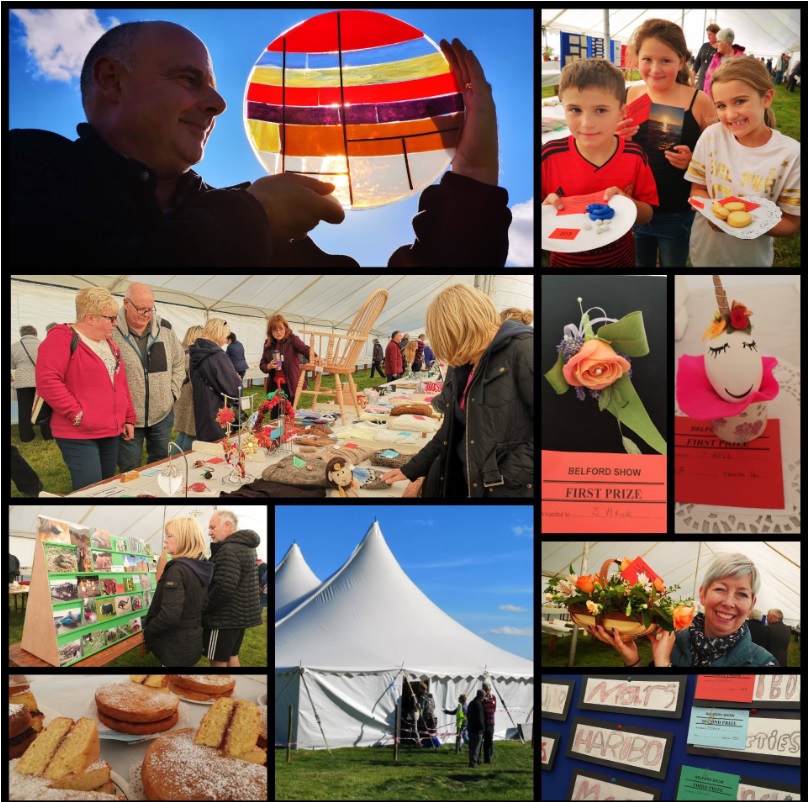 Photo Gallery